This is one of my favorite questions. As a fitness instructor and new mom (who is nursing multiple times a day) I need a lot of energy and therefor super nutritious/easy meals and snacks. I am constantly preaching that "food is fuel" and now more than ever I believe this to be true. You can't expect to have energy, be clear headed, and feel good in your body if you are filling it with crap. Honestly I am often low on energy and live in a fog but I think that's part of being a new mom/lack of sleep. When I eat well I know I am doing whats best for my bod and working to clear the fog that way less sleep brings.
When many of my clients come to me they are often overthinking their food and constantly counting calories, fat grams or carbs. They have a destructive, unhealthy relationship with their bodies and think of food as the enemy. UGH! It doesn't have to be this way! Food is your fuel, your nourishment, what keeps you going. Food is a necessity and it doesn't have to be complicated! Food can bring people together and be delicious/healthy at the same time.
Below is what a typical weekday looks like for me. I am not saying this is whats best for you since everyone is different but hopefully helps make your food choices a bit easier. It has taken me a loooooooong time to get to the point where I feel confident in my choices and I can honestly say I do not count anything (except nutrients but if you're eating whole foods you know you're getting what you need) when it comes to my meals. Every meal contains fruits and or veggies, grains and protein. Done and done.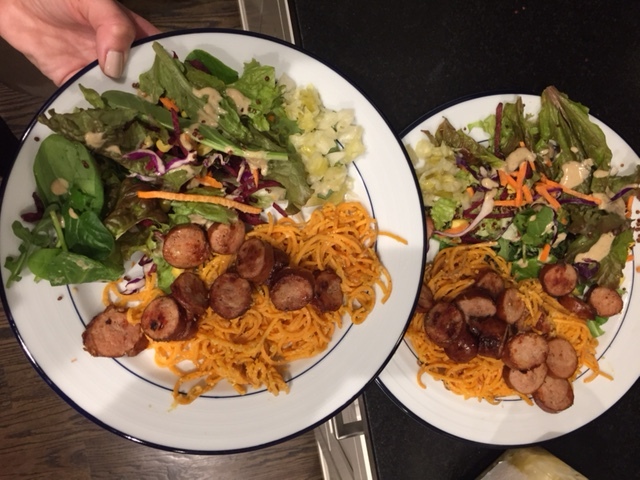 Breakfast: Oatmeal with 1/3 Perfect bar sprinkled on top. Fruit, cinnamon and splash of almond milk. 1-2 cups of coffee (depends on how the babe slept) with almond milk.
Snack after class: Apple with almond butter
Lunch: A big salad with everything I have in the fridge! Usually topped with tofu or tuna.
Dinner: Chicken Sausage or Salmon served over veggie noodles, usually sweet potato, quinoa and salad on the side.
Each day is different but I know if I fill my body with fruits/veggies, healthy fats and lean proteins I will be good to go. If I am still hungry before my evening classes I'll grab a kind bar or finish the Perfect Bar from the morning. Yummmmmmmmmm.
I do not eat red meat, dairy or gluten. This is whats best for ME. Before I was pregnant I ate a mostly Vegan diet with fish and eggs occasionally. I plan to get back there but for now this is what I need. I still consider my diet to be plant based.
Eating this way has helped me lose all the baby weight with ease. I now weigh less that I did when I got pregnant. Weight is just one measure of progress but I am very proud to say I have not stressed about it like I would have in the past. The number on the scale would have consumed me. Now, I check in and keep it moving. Entire post on this coming soon...
Hopefully this helps quiet your food noise! Eat according to your goals my loves! I'm legit so hungry now after writing this.